Windows Server 2008 Workstation Converter
If you don't want to configure all options to convert Windows Server 2008 to a Workstation manually, sawo now made it possible to use a tool for this. He has done a great job by creating this converter to automate all steps of the manual!
Get the Windows Server 2008 Workstation Converter
Support & Suggestions
Known Issue
The UxTheme patch may in cause an unbootable system in a few cases. To fix this, boot up the pc in Safe Mode with Command Prompt, change directory to %windir%System32 and rename the UxTheme.backup file back to UxTheme.dll. Now reboot and everything should work fine again!
Features of the Converter
General
Visual Tweaks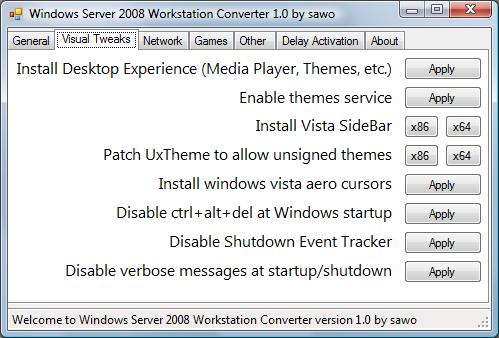 Network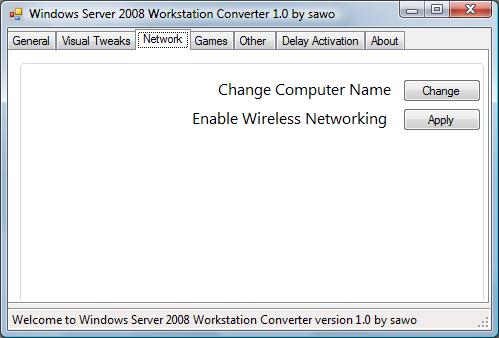 Games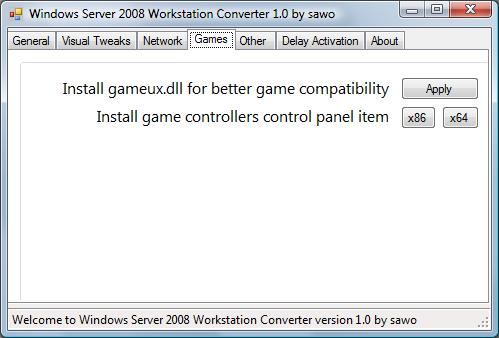 Other
Delay Activation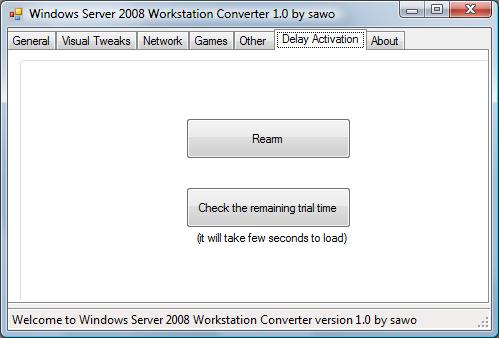 Possible commandline parameters
-audio Enable windows audio
-cpu Optimize CPU performance for programs
-ie Disable IE Enhanced Security Configuration
-dotnet Install .NET Framework 3.0
-superfetch Enable SuperFetch
-desktop Install desktop experience
-themes Enable themes
-cad Disable CTRL+ALT+DEL at Startup
-events Disable shutdown event tracker
-name Change computer name
-wireless Enable wireless networking
-offline Enable offline files
-search Enable windows search service
-autologin Enable auto logon
-delay Delay activation
-check Check the remaining days left until activation
-uxtheme32 Apply the UxTheme Patch for 32bit systems
-uxtheme64 Apply the UxTheme Patch for 64bit systems
-sidebar32 Install the sidebar for 32bit systems.
-sidebar64 Install the sidebar for 64bit systems.
-joy32 Install the control panel item for game controllers on 32bit systems.
-joy64 Install the control panel item for game controllers on 64bit systems.
-cursors Install the vista aero cursors.
More information can be found in Readme.txt and Changelog.txt.