Boot to Classic Desktop
After installing the Desktop Experience feature, Windows Server 2012 will automatically boot to the Start screen. Thanks to Igal Tabachnik with his post at the hmemcpy Blog, it is possible to automatically boot to the classic desktop although the Desktop Experience feature is installed. The installation can be done either automatically or manually.
Automatically
1. Download boot_to_desktop.zip (171 KB) from win2012workstation.
2. After downloading the zip extract the zip, as an Administrator and follow the instructions on the screen.

Manually
1. Open the Start screen, enter regedit and press Enter to start the Registry Editor.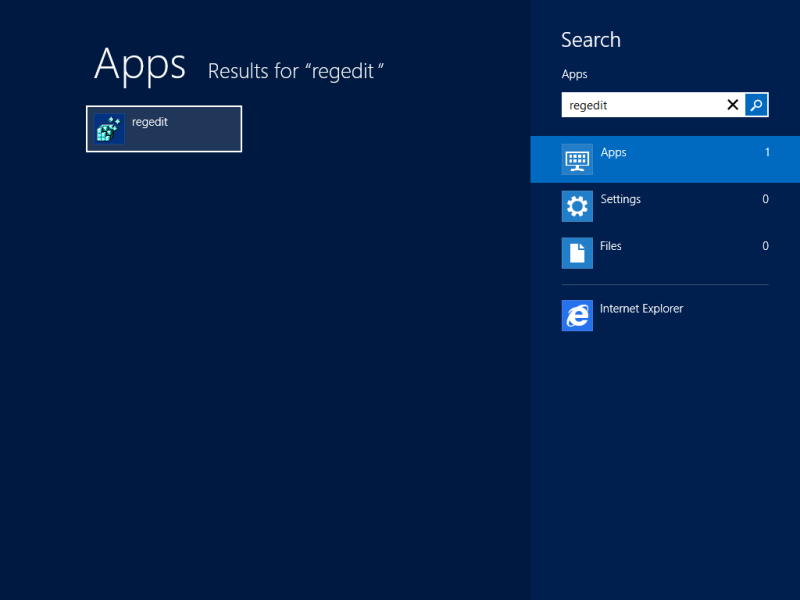 2. In the Registry Editor navigate to HKEY_LOCAL_MACHINE\SOFTWARE\Microsoft\Windows NT\CurrentVersion\Server, right click the Server key and choose Permissions.

3. At the Permissions window, click the Advanced button, next on top click the Change link behind the Owner: TrustedInstaller line, enter Administrators in the objects text area and click OK twice to get back to the Permissions window.

4. Now click the Administrators group and in the lower section check the Allow checkbox of the Full Control Permission to give the Administrators group all permissions to edit values within this key.

5. Double click ClientExperienceEnabled to open its value editor, change the value to 0 and click OK to save the change. Close the Registry Editor and reboot, and voila, your Windows Server 2012 with Desktop Experience enabled will automatically boot to the classic desktop! 🙂

Continue to install the Windows 8 Aero cursors…
---