Enabling Adobe Flash Player
4.2 – Enabling Adobe Flash Player Support in Internet Explorer
One thing to note with Windows Server 2016 is that by default, Adobe Flash Player does not work with Internet Explorer. As with Windows 10, Server 2016 is Windows NT10.0 (in this case 10.0.14393 to be precise…(sorry!)), so Adobe's Website actually thinks that you are running Windows10 and doesn't let you dowload it. The website simply suggests you may have a problem (helpful…).
Basically it boils down to the fact that it does not come pre-installed on Windows Server 2016, meaning you have to manually enable it using the Command Prompt and a tool called DISM(Deployment Image Servicing and Management).
The source files are already included in the Windows install so you don't even need to find the installation media.
1) When you try to use a website that requires Adobe Flash, you'll probably see something like the following: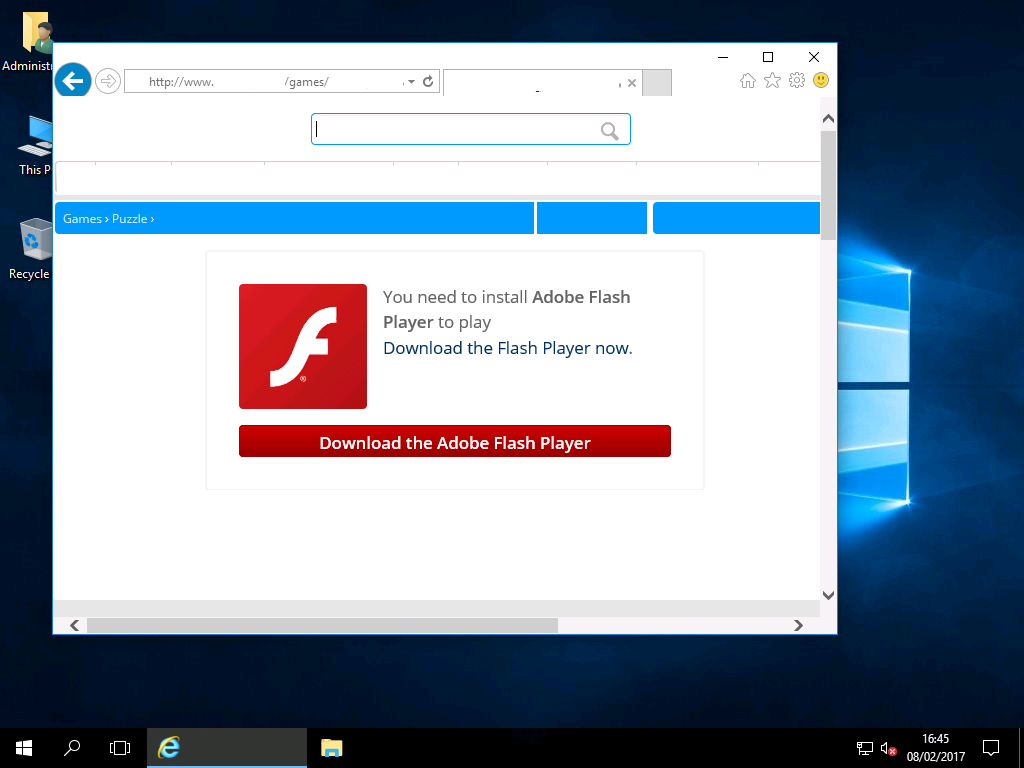 2) When you check with Adobe Flash's web page – it doesn't give you the opportunity to download the program, more so it just tells you there's an error as explained above.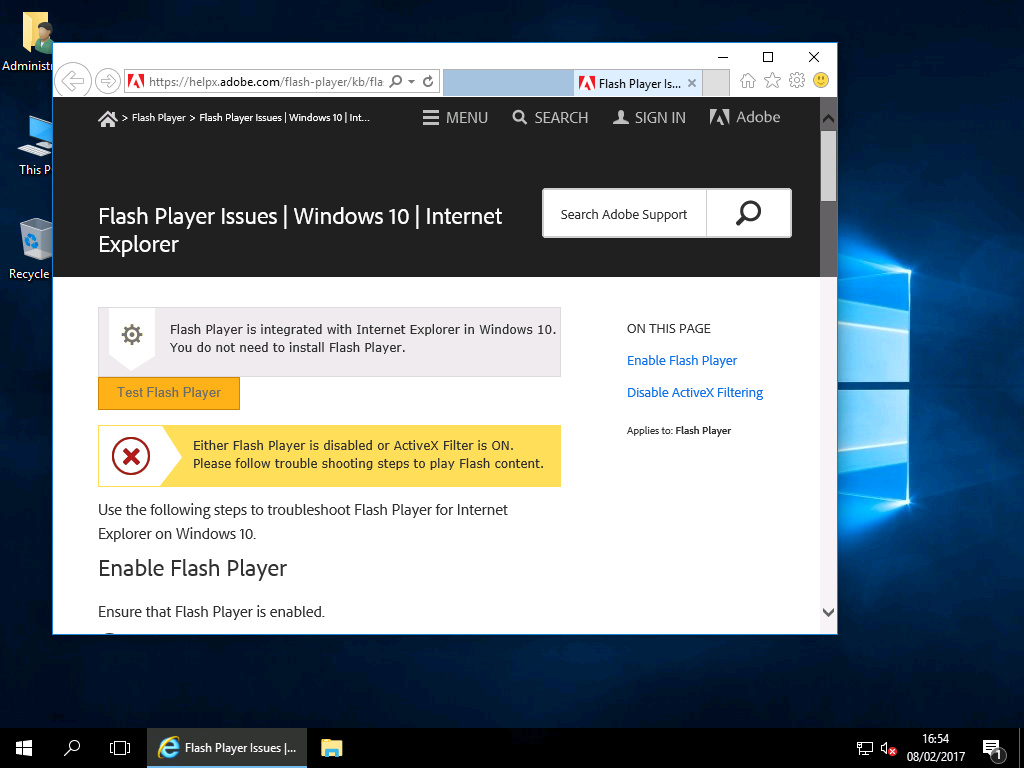 3) There is no option in Server Manager or even a GUI to install Adobe Flash, so we will need to use the Command Prompt and DISM to do it manually.
Right click the "Start Menu" and choose "Command Prompt (Admin)":
(If you do not do this as an admin it will give you an access is denied error at the next step and you will be unable to continue)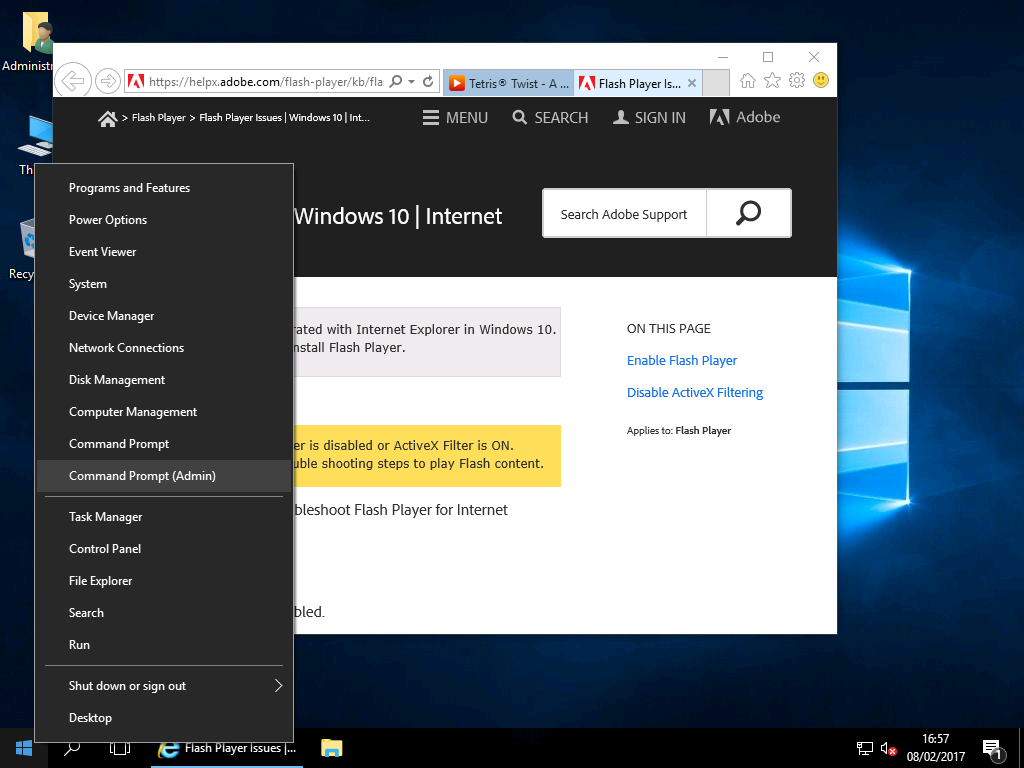 4) You can either type the below command, or you can download and run the script provided at the end of this page. Make sure the following command is typed all on one line, including the quotes:
Windows Server 2016
dism /online /add-package /packagepath:"C:\Windows\Servicing\Packages\Adobe-Flash-For-Windows-Package~31bf3856ad364e35~amd64~~10.0.14393.0.mum"
Windows Server 2019
dism /online /add-package /packagepath:"C:\Windows\servicing\Packages\Adobe-Flash-For-Windows-Package~31bf3856ad364e35~amd64~~10.0.17763.1.mum"
When it says "The operation completed successfully" you can close the Command Prompt: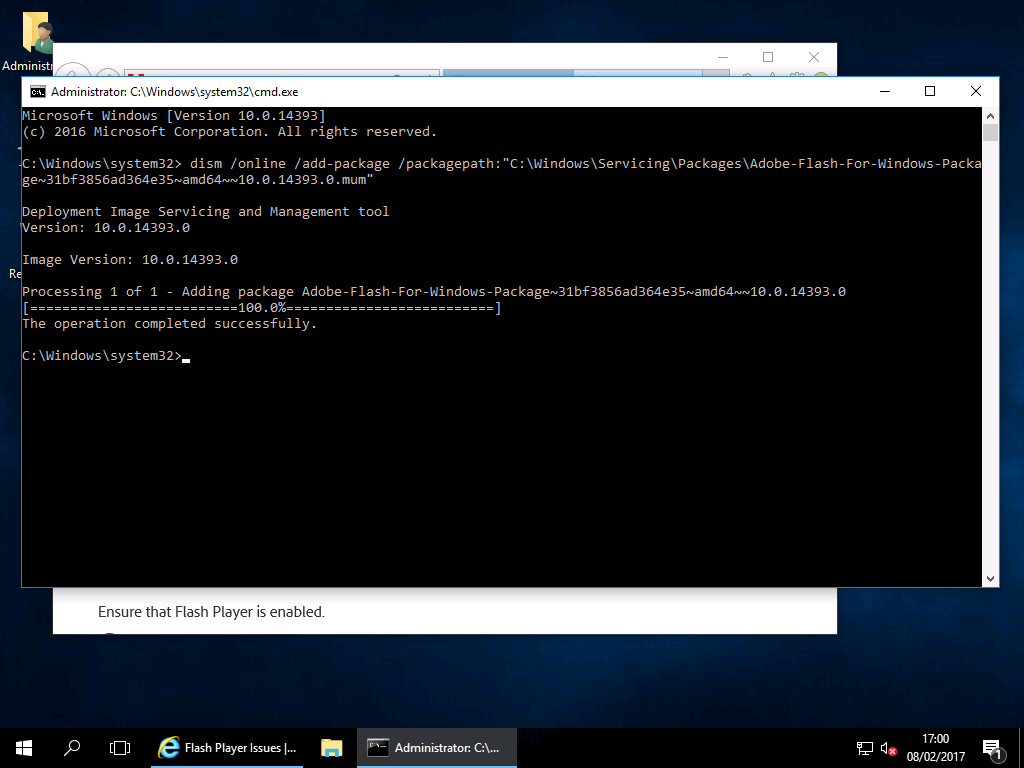 5) If Internet Explorer is open, you may need to close it and re-open.
Once open, you can again test Adobe Flash Player and all should work properly. To double check, you can go to

Adobe Flash Player's web page, click "Test Flash Player" and the animation of the tree with moving clouds (very unique!) will play.
To install Flash Automatically, download and extract the following ZIP File. You must extract the ZIP file to a temporary location (i.e. "C:\Temp").  Right click the extracted "addFlashPlayer.cmd" and choose "Run as Administrator".
Press any key to complete.